Trumpet & Cornet Hire – Why it makes sense
Trumpet or cornet hire is an option that makes sense for a variety of reasons. It may be somebody's first experience of playing either instrument and the question of whether they will enjoy it or not, or simply someone having started on one instrument and wanting to change to the other.
The Trumpets We Stock – Hire Today
The Dilemma:
You or your child has the chance to have either trumpet or cornet lessons, but you're not sure where to start.
If the instrument is for a younger player, then they may not be ready for a trumpet and may choose to start on the cornet and change to the trumpet as they grow. An adult taking up either instrument may want to try it out before committing to purchasing.
Reasons for hiring a trumpet or cornet can be varied, but whatever the situation we can help.
The choices:
The temptation is to buy the cheapest instrument you can find and see if they take to it. But can you imagine learning to drive in a car with sloppy steering, awkward gear change, poor brakes and a seat far to high or low? Not great and no difference with an instrument.
Your other choice? Hire a quality, professionally set up instrument from us.
Things you need to know:
Unfortunately, cheap instruments are difficult to play, almost impossible to keep in good working order, sound terrible, and will almost certainly discourage anyone from playing.
There is absolutely no point in having the opportunity to learn the cornet or trumpet, paying for lessons, and trying to use an instrument not fit for purpose!
Problem solved:
We only stock high quality trumpets & cornets, professionally set up, and ready to play. The result is a instrument that is easier to play, sounds better and will help anyone to learn and progress.
If the trumpet or cornet turns out not to be the instrument of choice, you can send it back. If you would like to change instrument, let us know and we'll arrange it all.
We have two goals. First,  to offer quality cornets and trumpets that help and encourage anyone to learn. The second is to make cornet and trumpet hire as simple and as easy as possible.
We Only Stock High Quality Trumpets
We only stock high quality, serviced instruments and the whole hire agreement is done online and the trumpet delivered to your door. Every single trumpet is checked, serviced and play tested before it leaves us. If an instrument doesn't come up to scratch it will not leave us. The brands we choose are always the best value for money, we have John Packer, Jupiter,  and Yamaha trumpets for hire.
Which trumpet Should You Hire?
To help you decide on which trumpet to hire we have put together a short 'choosing your trumpet' guide that will give you an insight into trumpets and help you understand some of the terminology. Above all else we are happy to help with making the decision, please contact us.
Trumpet & Cornet Hire Cost
| Trumpet/Cornet | Cost |
| --- | --- |
| John Packer JP051 Trumpet | £12 pcm |
| Jupiter JTR300 Trumpet | £14 pcm |
| Yamaha YTR1335 Trumpet | £15 pcm |
| Yamaha YTR2330 Trumpet | £24 pcm |
| John Packer JP071 Cornet | £12pcm |
| Jupiter JCR520 Cornet | £14 pcm |
| Yamaha YCR2330 Cornet | £16 pcm |
We think our hire prices are competitive, and the standard of our instruments to be very high.
If you have seen it for less, we'll match it. Just let us know and we'll do the rest!
Purchasing Your Trumpet Or Cornet
| Trumpet/Cornet | Purchase |
| --- | --- |
| John Packer JP051 Trumpet | £89 |
| Jupiter JTR300 Trumpet | £149 |
| Yamaha YTR1335 Trumpet | £249 |
| Yamaha YTR2330  Trumpet | £299 |
| John Packer JP071 Cornet | £129 |
| Jupiter JCR520 Cornet | £149 |
| Yamaha YTC2330 Cornet | £299 |
You can purchase your instrument. At any point during your agreement you can contact us to arrange the purchase.
All of the payments made, up to a maximum of six months, will contribute towards the purchase price listed above.
Trumpet Vs Cornet – What is the difference?
The basics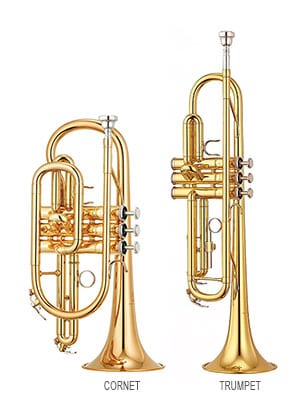 To look at the two instruments together the cornet is smaller; however, the actual tubing (the pipe from the mouthpiece end all the way round to the bell) is the same length as the trumpet at 4 1/2ft. If you look at the tubing on a cornet next to a trumpet you can see that the cornet tubing is wound much tighter. Being the same length, they both play at the same pitch of Bb on standard student models.
The technical difference
The differences between the sound of different trumpets and cornets is the bore size. The bore size is the diameter of the tubing used to make a trumpet or cornet. Bore sizes vary according to the trumpet. A smaller bore will give a mellow, softer tone and a larger bore will be for trumpets used for a more pronounced tone. Professional trumpet players will have different trumpets for different types of playing. They will also have different sized mouthpieces for different types of music.
The tubing on a trumpet is cylindrical and a consistent diameter throughout until you get the bell. The cornet has a conical bore which gradually increases the throughout. This difference gives two very different sounds. Broadly speaking you would be looking at the difference between the two instruments like this;
Trumpet gives more of a jazz, piercing sounds. Think of fanfare/Jazz trumpet solos
Cornet has a much warmer, softer sound. Think Hovis bread advert or solemn military music.
Where they are used.
Because they have very different sounds it makes sense they are used for very different music. Trumpets are found in Jazz, Big Band, Pop music, Orchestras and the cornet is often used with other brass instruments that have a cylindrical bore, such as French Horn. However, most orchestras/military bands will have both.
Younger Children
Many brass teachers will recommend that players that learn at a younger age start on a cornet. This is simply because it is shorter in length and a child's arms do not have to extend as far as you would hold a trumpet. The centre of gravity is much better and less tiring for the child if played for any length of time if the instrument is smaller in length.
Learning to play the trumpet or cornet can be very rewarding, as can any instrument. It also has some proven benefits for the brain too!
There have been many studies and articles written on the subject, the BBC, Classic FM, and NAMM  to name a few.
Both instruments are used in a huge variety of music genres and are very versatile instruments. From big band greats, film classics such as Mission Impossible, Star Wars (and hundreds more!) right through to solemn or classical music and military use, it is almost impossible to imagine where these instruments do not fit.
There are many great online learning resources, but you will never do better than one on one lessons with a professional music teacher.