Cello Hire – Why It Makes Sense
Cello hire is an option that makes sense for a variety of reasons. It may be somebody's first experience playing the cello and the question of whether they will enjoy it or not, or to enable the younger player to start lessons and have easy access to changing cellos through the different sizes as he or she grows.  Cello hire could also provide a former player with an opportunity to take up the cello again.
The Cellos We Stock – Hire Today
'B' Grade Full Size Cellos
The Dilemma
You or your child has the chance to have cello lessons, but you are not sure where to start.
If the cello is for a child, then they may not be ready for a full-size instrument and will need to change the size of the cello as they grow. An adult taking up the cello may want to try it out before committing to purchasing a cello.
Reasons for hiring a cello can be varied, but whatever the situation we can help.
The Choices
The temptation is to buy the cheapest instrument you can find and see if it is for you or your child. But, for example, can you imagine learning to drive in a car with sloppy steering, awkward gear change, poor brakes and a seat far to high or low? Not great, and there is no difference with an instrument.
Your other choice? Hire a quality, professionally set up cello from us.
Things You Need To Know
Unfortunately, cheap instruments are difficult to play, almost impossible to tune, sound terrible, and will almost certainly discourage anyone from playing.
There is absolutely no point in having the opportunity to learn the cello, paying for lessons, and trying to use an instrument not fit for purpose!
Problem Solved
We only stock high quality cellos, professionally set up, with high quality strings fitted. The result is a cello that is easier to play, sounds better and will help anyone to learn and progress.
If the cello turns out not to be the instrument of choice, you can send it back, or exchange to a different instrument.   If you need the size changing, we will exchange the cello for the next size up.
We have two goals; firstly, to offer quality cellos that help and encourage anyone to learn. The second is to make cello hire as simple and as easy as possible.
On this page you will find:
Why Hire? Hiring a Cello versus Buying
It would be very easy to buy a cello for much less than £300 to start lessons. However, this will only ever be a bad idea for several reasons. Ultimately, an inexpensive cello, or any inexpensive musical instrument for that matter, is not a great idea and will only ever hinder a musician's progress, even more so when a complete beginner. A good solution is to hire the instrument from Musical Instrument Hire to make sure you have the correct cello for the job.
The biggest advantage for hiring a cello for a child is being able to change of size of the instrument for a younger player. As they grow, the cello will need to be changed for the correct size.  There is also the argument for hiring in being able to ensure that this is the instrument that the student wants to learn to play. This applies to children and adults and is always worth remembering that giving up the cello doesn't stop the musical journey as there are plenty of other instruments to try.
A solution, is to hire a cello from Musical Instrument Hire. We only stock high quality, serviced instruments and the whole rental agreement is done online and the cello delivered to your door.
What Makes our Cellos Different?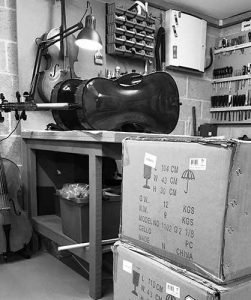 All our cellos are quality instruments and professionally set up. What do we mean by set up? Our cellos have several adjustments that make the cello easier to play and better sounding.
Fit the pegs – This helps to make tuning easier, especially for beginner. Badly fitted pegs may slip, this makes the instrument incredibly hard to tune.
Adjust the nut height – The string height at the nut is often too high, this makes the instrument much harder to play, so we adjust the nut to make the string sit lower.
Fit the bridge feet – Unless the bridge feet follow the contours of the cello body perfectly you lose the depth and sound of the instrument.
Adjust bridge height and shape – Just like the nut adjustment, unless the bridge height is perfect the strings will sit too high, or sometimes too low. This will make the cello extremely hard to play.
We only fit top quality strings from D'Addario.
All these things combined make the cello easier to play, and sound much better.
Cello Hire Cost
| Cello | Cost |
| --- | --- |
| Cello 1/10 | From £18 pcm |
| Cello 1/8 | From £18 pcm |
| Cello 1/4 | From £20 pcm |
| Cello 1/2 | From £20 pcm |
| Cello 3/4 | From 20 pcm |
| Cello Full Size | From £25 pcm |
Delivery & Returns
All our cellos are delivered in bespoke, strengthened boxes to ensure they arrive with you safe and sound. On the day of delivery you will receive a delivery time slot from Parcelforce.  Please keep the box for the return journey.
Returning is simple and easy too, simply repackage the cello in the original box and we'll arrange to have the cello collected from any address or safe place. You can also choose drop your cello to the nearest depot or Post Office (excluding full size).
About the Cello & Inspiration to Get Playing
The cello is often referred to in gest as a big violin!  But, it's original name was the bass violin, followed by violincello which means "big little violin" in Italian.  Over time the name was shortened to cello. The first recorded maker was Andrea Amati who built cellos for Charles IX King of France. One of these cellos is now played by Sheku Kanneh-Mason, a British cellist who won the 2016 BBC Young Musician of the Year award.
The cello is an extremely popular instrument for its deep rich sound, and no orchestra would be complete without a cello section. Not only is it a lovely sounding instrument, there are many advantages in learning a musical instrument for the human brain and its development and general ongoing health.  This includes cognitive function and neural processing improvements, coordination and motor skills, boosting memory and much more.