Violin Hire – Why It Makes Sense
All the hire violins come complete with the violin itself, bow, case, shoulder rest & rosin.  Everything to get started!
Violin hire is an option that makes sense for a variety of reasons. It may be somebody's first experience playing the violin and the question of whether they will enjoy it or not, or simply that being able to change the size of the violin as the player grows rather than purchasing the different sizes of violin helps make the learning journey easier for parents.
The Violins We Stock – Hire Today
The Dilemma
You or your child has the chance to have violin lessons, but you are not sure where to start.
If the violin is for a child, then they may not be ready for a full-size instrument and will need to change sizes as they grow. An adult taking up the violin may want to try it out before committing to purchasing a violin.
Reasons for hiring a violin can be varied, but whatever the situation we can help.
The Choices
The temptation is to buy the cheapest instrument you can find and see if they take to it. But can you imagine learning to drive in a car with sloppy steering, awkward gear change, poor brakes and a seat far to high or low? Not great and no difference with an instrument.
Your other choice? Hire a quality, professionally set up violin from us.
Things You Need To Know
Unfortunately, cheap instruments are difficult to play, almost impossible to tune, sound terrible, and will almost certainly discourage anyone from playing.
There is absolutely no point in having the opportunity to learn the violin, paying for lessons, and trying to use an instrument not fit for purpose!
Problem Solved
We only stock high quality violins, professionally set up, with high quality branded strings fitted. The result is a violin that is easier to play, sounds better and will help anyone to learn and progress.
If the violin turns out not to be the instrument of choice, you can send it back, or exchange to a different instrument. If you need the size changing, we will swap it.
We have two goals; firstly,  to offer quality violins that help and encourage anyone to learn. The second is to make violin hire as simple and as easy as possible.
We Only Stock High Quality Violins
We only stock high quality, well maintained violins. We take a good quality Stentor & Andreas Zeller violins and upgrade parts such as the bridge, tailpiece, and strings. It is then professionally set up to make sure the string height, peg and sound post fitting is perfect.
What Size Instrument Do I Need?
You may already know the violin size needed, but if not, we have put together a violin sizing guide. Any other questions or advice needed just contact us, we'll be happy to help.
Violin Hire Cost
| Violin | Hire |
| --- | --- |
| Violin 1/10 | From £14 pcm |
| Violin 1/8 | From £16 pcm |
| Violin 1/4 | From £16 pcm |
| Violin 1/2 | From £16 pcm |
| Violin 3/4 | From £16 pcm |
| Violin Full Size | From £20 pcm |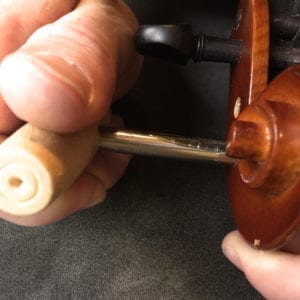 Fit the pegs – This helps to make tuning easier, especially for beginners. Badly fitted pegs may slip and this makes the instrument incredibly hard to tune.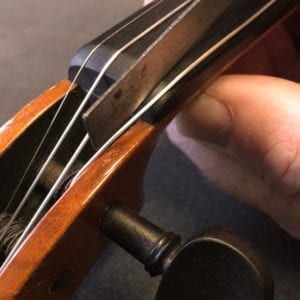 Check & adjust the nut height – the string height at the nut is often too high which makes the instrument much harder to play.  We adjust the nut so that the string will sit lower.
Shape & fit the bridge feet – Unless the bridge feet follow the contours of the violin body perfectly you lose the depth and sound of the instrument.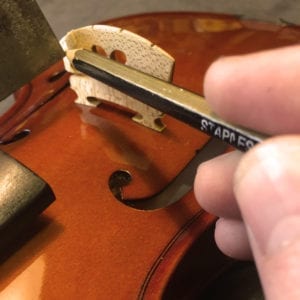 Adjust bridge height and shape – just like the nut adjustment – unless the bridge height is perfect the strings will sit too high, or sometimes too low. This will make the violin extremely hard to play.
On top of that, we also check and adjust other parts of the violin, and upgrade parts such as the tailpiece and strings. All these things combined make the violin easier to play, and sound much better. More detail? Find out more here
Learning to play the violin is undoubtedly rewarding, as is any instrument, and learning an instrument can have some fantastic benefits for the brain.
There have been many studies and articles written on the subject, the BBC, Classic FM, and NAMM  to name a few.
If you are a complete beginner then the early months are the hardest, but you'll soon find you have developed a good platform and start to progress. There are other skills to be learnt alongside just playing including tuning the violin, and how to rosin your bow.
Once you start, you'll start to discover a whole world of interesting facts about the violin,  looking after your violin  and how to care for it.  There are many subjects relating to the violin to discover, for example, different violin strings, different violin bows,  and styles of music.
Whatever route you choose, or how in depth you go, nothing else really matters apart from your enjoyment! Always enjoy the learning journey, and everything else will fall into place.