Violin Hire Made Easy….
Violin hire is a cost effective solution for young players or anyone just starting out and there any many reasons why this option may suit.
The Dilemma
Your child (or yourself) has the chance to have violin lessons, but you're not sure where to start. Of course you want them to succeed, but what if he/she doesn't take to it? For younger players, they are more than likely too small to manage a full size instrument and they will need to upgrade to a larger size in a year or two? Or simply, need the opportunity to trial playing the violin before the commitment is there to purchase.
The temptation is to buy the cheapest instrument you can find and see if they take to it. Unfortunately cheap instruments are difficult to play, sound terrible, and will almost certainly discourage anyone from playing (imagine trying to learn to drive in a car with sloppy steering, awkward gear change and poor brakes).
The Solution
So the solution, is hire an violin from us. We only stock high quality, serviced instruments and the whole hire agreement is done online and the violin delivered to your door.
We Only Stock High Quality Violins
We only stock high quality, well maintained violins. We take a good quality Andreas Zeller violin and upgrade parts such as the bridge, tailpiece, and strings. It is then professionally set up to make sure the string height, peg and sound post fitting is perfect.
What Size Instrument Do I Need?
You may already know the violin size needed, but if not, we have put together a violin sizing guide. Any other questions or advice needed just contact us, we'll be happy to help.
Violin Hire Cost
| Violin | Hire |
| --- | --- |
| Violin 1/8 | £10 pcm |
| Violin 1/4 | £10 pcm |
| Violin 1/2 | £10 pcm |
| Violin 3/4 | £12 pcm |
| Violin Full Size | £14 pcm |
What Makes our Violins Different?
All our violins are quality instruments, made in Eastern Europe (mainly Romania and Germany) and professionally set up. What do we mean by set up? Our Violins have several adjustments that make the violin easier to play and better sounding.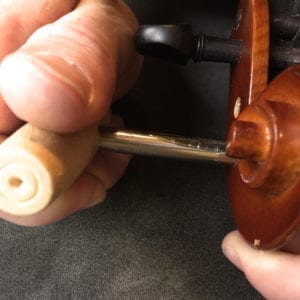 Fit the pegs – This helps to make tuning easier, especially for beginner. Badly fitted pegs may slip, this makes the instrument incredibly hard to tune.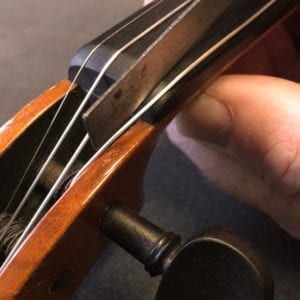 Adjust the nut height – The string height at the nut is often too high, this makes the instrument much harder to play, so we adjust the nut, so the string will sit lower.
Fit the bridge feet – Unless the bridge feet follow the contours of the violin body perfectly you lose the depth and sound of the instrument.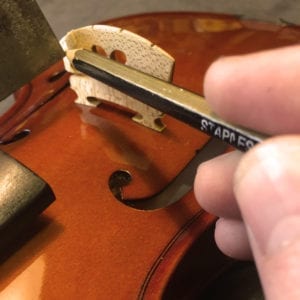 Adjust bridge height and shape – Just like the nut adjustment, unless the bridge height is perfect the strings will sit too high, or sometimes too low. This will make the violin extremely hard to play.
We also check and adjust other parts of the violin, and upgrade parts such as the tailpiece and strings. All these things combined make the violin easier to play, and sound much better. More detail? Find out more here