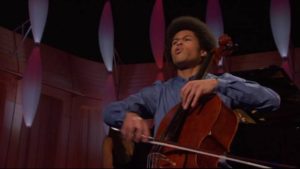 It is very refreshing and relatively rare to have a new talent suddenly appear and inspire people in the music world.  We are aware of musicians all the time but just now and again someone comes along who is fresh, a pure talent, and gives something back to the music world.
Sheku Kanneh-Mason is from Nottingham, UK, and is 18 years old (b 1999) He won Young Musician of the Year 2016 on the cello and has moved mountains since winning.  He is signed to the Decca Classics record label and released his debut album "Inspiration" in January 2018.  Sheku signed the record deal with Decca in November 2016 on board a Nottingham City Transport bus which was named in his honour.  (Sheku ironically missed the very same bus one morning and was late to school!)
He has been awarded the Royal Philharmonic Society Young Instrumentalist Duet Prize 2016 and been nominated for The Times South Bank Breakthrough award 2017.  Sheku is also a member of the Chineke! Orchestra who are a British orchestra and the first in Europe to be made up of majority black and minority ethnic musicians.
Sheku is one of seven (he is third in line) and all his brothers and sisters are musical too.  His parents however aren't – they did as many parents do and supported music lessons.  They had no idea that they had naturally talented, musical children but strove to support and encourage them all.  Shekus' eldest sister started on the piano and was the first of the siblings to earn a place at the Royal Academy junior academy.  More talent followed and in the midst, was Sheku.   Sheku started learning on the violin but then moved to the cello when he was six.  He passed Grade 8 cello with the highest marks in the UK when he was nine.  He also earned his junior scholarship to the Royal Academy at the age of nine.  The siblings also performed on Britain's Got Talent 2015 to great acclaim.
Sheku attended Trinity Catholic School in Aspley, Nottingham and has donated £3000 after hearing that budget cuts could result in cello lessons being stopped.  He earned the money through playing engagements and his donation, which was matched by Decca, will ensure that lessons can continue at the school for the next three years.
Sheku plays on a 1610 Brothers Amati cello that he has been loaned permanently through Florian Leonhard Fine Violins.  An anonymous sponsor based in London has facilitated this for Sheku.
Need to hire a cello?
[video_embed url="https://youtu.be/Q6GJgOXBi2U?list=RDQ6GJgOXBi2U"]
[video_embed url="https://youtu.be/RLd9PcZW5PQ?list=RDQ6GJgOXBi2U"]