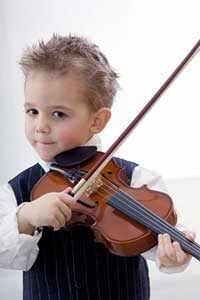 Measuring what size violin, viola, or cello you need is straight forward. If you have not been advised on the size you need, then this short guide should help you out.
The actual size between the instruments doesn't look much, a ¼ violin being 47cm and the ½ only 4cm longer, but this can make a real difference to the player.
Playing on the wrong size instrument could force the player to have to stretch too far or have to 'scrunch' up. Either way, its going to make learning to play much harder!
If you are an adult learning to play you will probably need a full size instrument, but it is worth checking if you are not sure.  For a child, please follow these simple measurements.
If you are still unsure after using this guide, please contact us. We are always happy to help.
Just under the next size up?
If you find your child is just under being the next size up, it is tempting to go for the large instrument.
Ideally, they should start with the smaller size and only move to the larger size when they are 100% ready. Playing an instrument even slightly to large may inhibit progress.
If the violin arrives, but the teacher suggests a different size please let us know and we'll arrange the swap.
Hire a violin in our online store.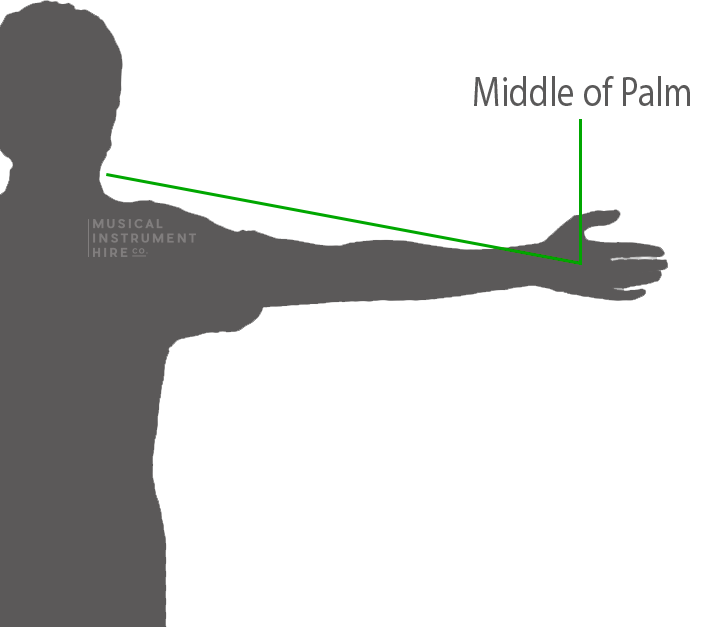 How To Measure
Have the player extend their left arm completely straight (but not overextended) with no bend in the elbow or wrists.
Measurement 1 (neck to wrist) This indicates the most appropriate and comfortable size for the player.
Measurement 2 (neck to palm) This indicates the largest size the player could use.
Other Methods Of Measuring
If you already have a violin you can easily measure and check the size.
If the violin is put in the playing position, then the violin scroll should sit in the middle of the palm of the left hand and the fingers be able to curl around the scroll.
You can also simply measure the back of the violin body using the measurements table below.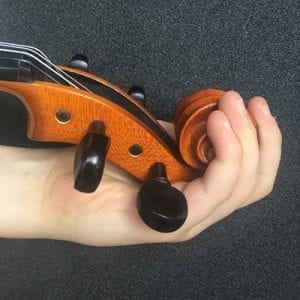 What Size Violin Do I Have? – Useful Violin Measurements
If you already have a violin, we have a useful list of measurements that will help you determine what violin size you have.
| Violin Size | Violin Back Length | Violin Overall Length | Bow Length |
| --- | --- | --- | --- |
| 1/16 Violin | 209mm or approx. 8 inches | 36.8cm or 14.5in | 42.5cm or 16.75in |
| 1/10 Violin | 230mm or approx. 9 inches | 40.6cm or 16in | 45cm or 17.5in |
| 1/8 Violin | 255mm or approx. 10 inches | 43cm or 17in | 48.9cm or 19.25in |
| 1/4 Violin | 280mm or approx. 11 inches | 48.25cm or 19in | 57.15cm or 22.5in |
| 1/2 Violin | 310mm or approx. 12.2 inches | 52cm or 20.5in | 62.2cm or 24.5in |
| 3/4 Violin | 335mm or approx. 13 inches | 53.3cm or 21in | 68.6cm or 27in |
| 4/4 Full Violin | 356mm or approx. 14 inches | 60cm or 23.5in | 75cm or 29.5in |