When hiring a cello or changing the size of a cello for a child it can seem tricky to know what size cello you need, or what size you need to change to.
There are several methods to determine what size you need if your teacher hasn't advised you. This chart gives you the size of the cello (measuring just the back of the cello, and the total length), and different criteria for what size is required as a general guide. All children vary, as do the cellos themselves.
There are cross over measurements which look confusing but if your child is a more petite build but reach other criteria, they will generally need the smaller size instrument, and vice versa.
If you order a cello and it turns out to be the wrong size, we will more than happily swap it for you.
Hire a cello in our online store
Cello Sizing Guide – By Age
Age is a simple and easy method of measuring for a cello. It is also fairly accurate and can be used on its own.
This table shows the different age groups and which cello they would need.
However, it is worth taking note of arm length and height below just to double check.
Cello Sizing Guide – Arm Length & Height
| Cello Size | Arm Length | Height |
| --- | --- | --- |
| 1/10 Cello | 16″/ 41 cm and under | 3′ / 91 cm and under |
| 1/8 Cello | 16″ to 18″ / 41cm to 46cm | 3′ to 3'6″ / 91cm to 110cm |
| 1/4 Cello | 18″ to 20″ / 46cm to 51cm | 3'6″ to 4′ / 110cm to 123cm |
| 1/2 Cello | 20″ to 22″ / 51cm to 56cm | 4′ to 4'6″ / 123cm to 140cm |
| 3/4 Cello | 22″ to 24″/ 56cm to 61cm | 4'6″ to 5′ / 140cm to 152cm |
| 4/4 Full Cello | 24″+ / 61cm+ | 5'+/ 152cm+ |
How to measure arm length
Have the player extend their left arm completely straight (but not overextended) with no bend in the elbow or wrists.
Measurement 1 (neck to wrist) This indicates the most appropriate and comfortable size for the player.
Measurement 2 (neck to palm) This indicates the largest size the player could use.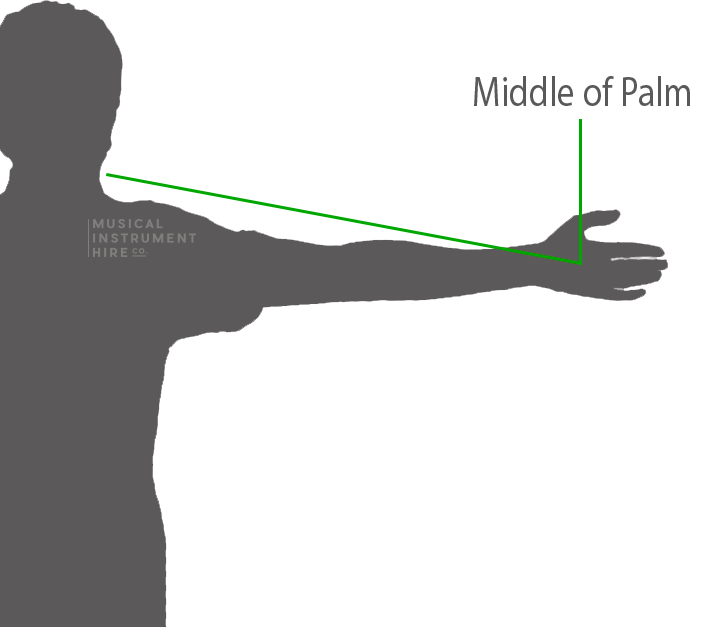 Cello Sizing Guide  – Finger Span
How To Measure Finger Span
Exactly as per the diagram, with splayed fingers in a comfortable position.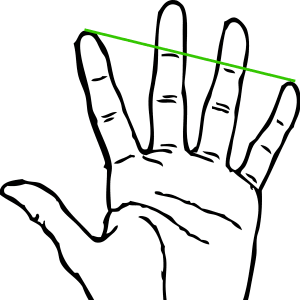 With the Suzuki method, cello sizing is slightly different.
The smaller sizes are a size down, until you get past 1/2 size then the cello sizing falls in line with European sizes.
Cello Sizes – The Difference Between Countries and Their Sizing
Unlike violins and violas, the actual sizes of cellos can be different depending on their country of manufacture, or simply the cello luthier. This doesn't really help when you are trying to measure a cello to determine its size!
There are also no written rules for the differences between manufacturing country, but (roughly) German cellos often are correct, Romanian & Hungarian often come up an inch or so small. Chinese cellos can be exact, or a little over/under.
This is only a guide, but may help if you are trying to determine what size cello you have or need. If you have a cello that doesn't match the sizing given, then you need to work to the closest size, and you shouldn't find any cellos exactly in the middle!
The table below outlines some useful cello measurements
| Cello Size | Back Length | Total Length | Maximum Width | Bow Length |
| --- | --- | --- | --- | --- |
| 1/10 Cello | 17.75″ / 45cm | 29.5″ / 74.9cm | 9.75″ / 24.7cm | 17.5″ / 44.4cm |
| 1/8 Cello | 20″ / 50.8cm | 33.5″ / 85cm | 11.75″ / 29.8cm | 20.75″ / 52.7cm |
| 1/4 Cello | 23″ / 58.4cm | 38.5″ / 97.7cm | 13.5″ / 34.2cm | 23.75″ / 60.3cm |
| 1/2 Cello | 26″ / 66cm | 42″ / 106.6cm | 15″ / 38.1cm | 25.5″ / 64.7cm |
| 3/4 Cello | 27.25″ / 69.2cm | 45″ / 114.3cm | 16″ / 40.6cm | 27″ / 68.5cm |
| 4/4 Full Cello | 30″ / 76.2cm | 48″ / 121.9cm | 17.75″ / 45cm | 28″ / 71.1cm |