How Much Do Music Lessons Cost?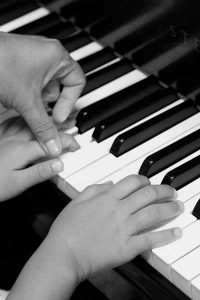 The cost of your music lesson will vary teacher to teacher, school to school, organisation to organisation. There is a union recommendation for teachers to charge, but this will vary depending on age, experience and circumstances of the teacher. Some teachers will offer lessons on a group basis to schools or organisations at a reduced cost.
Private teachers will vary their costs depending on whether they come to you to teach, or you travel to them. The length of the lesson will also alter the cost of the lesson. The area that you live in will also determine the cost sometimes, e.g., London prices tend to be higher than other parts of the UK.
If you have a very experienced teacher who is a professional musician themselves, and very much in demand, you will expect to pay more than someone who has just graduated. Most lessons will be thirty minutes long and an average price will be around £17.50.
Teachers will also vary on payment methods and may offer a discount for lessons paid for in advance, or in bulk. Look out for penalties for missed lessons, or students who are late!
How Much will a Musical Instrument Cost?
It will depend on what instrument you want to learn as to how much the instrument will cost. A recorder, fife or ukulele will be a lot less than a cello, saxophone or piano, for example.
The option to hire an instrument can be a worthwhile consideration, especially if there is a purchase option on the instrument that you hire. If your child is learning a string instrument, they will not learn on a full- size instrument so the option to hire the smaller size instruments is worth looking at as they will grow out of each size.
Instruments themselves vary vastly too, for example, a basic student flute can be anything from a couple of hundred pounds upwards towards a thousand. A more advanced instrument will go up in price again. This will go for any instrument in the woodwind, brass or string category.
A straightforward keyboard can cost a lot less than a full size acoustic or digital piano, but as you progress you will need to up-grade the instrument to be able to learn properly. The average hire cost per month for an instrument is around £15.00. However, a full-size cello, or more advanced instrument will be much more due to the cost of the instrument itself.
What other costs are incurred for Music Lessons?
Your music lessons will incur costs for the instrument, the books and the lesson itself. In addition, you may have travel expenses to consider.
If you take exams, then these incur a cost and they will vary depending on the grade and which exam body is taken. Ensemble groups can often be chargeable, and competitions too.
What is the Cost of Maintaining a Musical Instrument?
The cost of maintaining a musical instrument will depend instrument to instrument.
String instruments will need new strings over time through wear and tear, or if they snap. The bow will need rosin but unless the rosin is dropped and smashes, rosin lasts for years! If the sound post, or bridge come down then the instrument will need a professional repair. The pegs can have issues with being too loose or too tight and again will need a professional adjustment.
It will depend on whether you own or hire the instrument and how good your local luthier is as to how much you will have to pay to maintain the instrument.
Woodwind instruments (clarinets and saxophones) need new reeds periodically. There is a new brand of reed that will last longer as it isn't made from the traditional reed which splits, but these are more expensive in the first place to buy. If a woodwind instrument is dropped, sat on, or mysteriously has another issue that renders it impossible to play properly it will need looking at by a professional repairer. It can often be a simple repair, but on occasion it can be more involved for the instrument to be back to playable condition.
Brass instruments can be simple to maintain but can have issues with valves, or a mouthpiece that gets stuck. In these instances, a professional repairer will need to look at the instrument. If the instrument is dropped it can lead to issues and may need looking at. If the brass becomes dented the dents can be pulled out by a professional repairer.
An acoustic piano will need tuning around once a year and this is an average cost of £60.00. If the piano needs some attention, then the cost will be a little more. A digital piano doesn't need tuning and as long as it is in good working order it just needs plugging in!
How much do Music Books Cost?
Music book costs vary depending on the book. They will range from a few pounds for most beginner tutor books through to much more for the higher levels.
A lot of tutor books now come with free downloads for backing tracks or accompaniments. This has replaced many books that did come with CDs and the industry is forever trying to keep up to date with how children learn, and that they are using many sources of IT to access music learning.
Are there Apps that help with Learning a Musical Instrument?
Yes, there are several apps that help with learning a musical instrument. Some are free and some you need to pay for. There are organisations that have a wide variety of apps to help with learning, e.g., ABRSM for exam preparation for scales and sight reading.
There are apps for metronomes and apps to teach specific songs or tunes. There are apps for tuning instruments, apps for composing, apps for music games – the list is endless and forever growing. Many teachers will use apps to make learning "fun", and they will suggest apps to parents that are suitable for students.
Schools will also use software programs that often have apps that students can access at home.
Can I Learn a Musical Instrument on a Budget?
Yes, this is possible. If you already own an instrument and are happy to maintain it yourself and know how to do any basic repairs that are necessary, then the cost of the instrument itself massively reduces.
If you want to learn the piano and already have a piano, then bingo – you are sorted and will only need to pay for tuning.
There are several on-line tutors, and YouTube of course will give endless videos for music lessons, tutorials etc.
You can reduce the number of lessons you have, and rather than weekly, have fortnightly or monthly lessons. If you can find a teacher that is happy to do ad-hoc lessons, then the cost will reduce even more.
Books can be purchased second hand. Amazon, for example, sell used books and they are a fraction of the cost of a new book, and will do the same thing! They may have the occasional marking, but these are more often helpful than not.
If you are playing a reed instrument it is worth shopping around for reeds as the price can vary. It is also more economical to buy boxes of reeds than single reeds too.